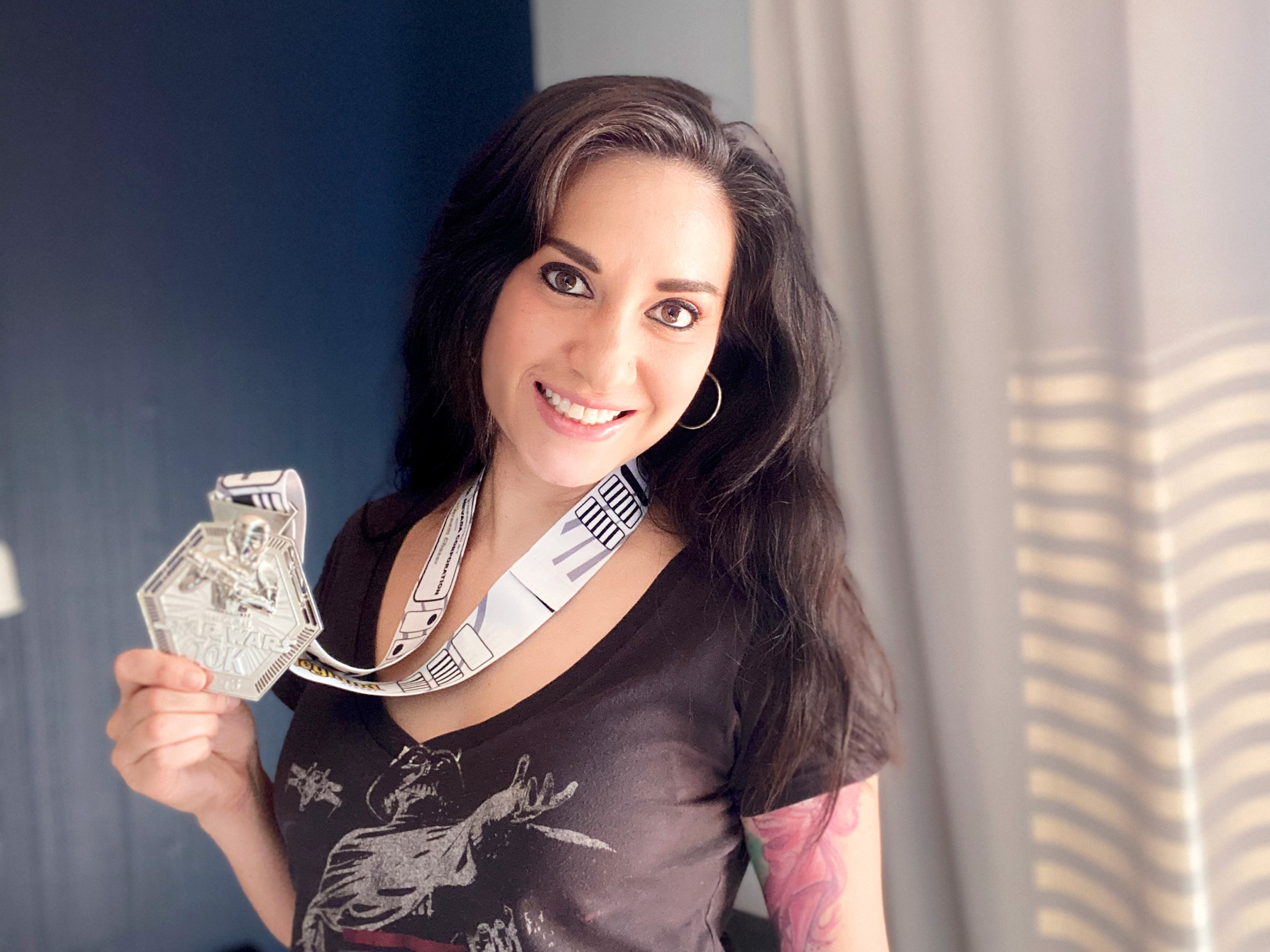 Something I've found very helpful in maintaining any sort of motivation in my fitness journey has been celebrating the wins, big or small. One of my biggest wins happened in 2015 when I ran my first 10K. It was a win on many levels for me:
It happened only months before I was diagnosed with RA (Rheumatoid Arthritis) and put a halt on anything remotely fitness for almost a year
I never felt like I was a runner, so to complete a 10K was a huge accomplishment for me
It was a Star Wars themed 10K in Disneyland! I mean, does it get any better than that!
Training
I found training pretty difficult. I'm not a runner so I started with baby steps. I began with intervals of walking and running. I would run for one minute, walk for one minute. Run for two minutes, walk for one minute. I very slowly began to run longer and walk less and eventually would just run. I also started with really low mileage and slowly worked my way up.
It took me months to get my miles up before I ran the full 6.2 in Anaheim. I definitely feel I have an advantage when it comes to any sort of training because of where I live. In Santa Fe, New Mexico, at an elevation of over 7,000 feet, world-class athletes come here to train and I grew up breathing this air. So, when I got going outside the gates of the "Happiest Place on Earth," I immediately felt the ease of breathing and I was off!
The Starting Line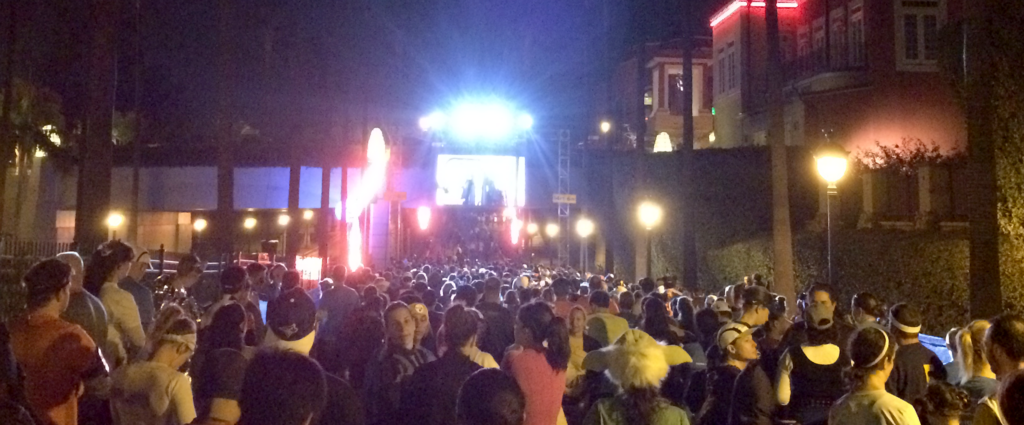 If you're not a Disney person, you may not understand the chills running through me even as I type this over five years later. But, if you are, I highly recommend participating in a DisneyRun, a walk, a 5K, a half marathon, whatever at some point in your life. It's an incredible experience! Disney does as Disney does and goes all out in their imaginative ways and the experience is so much more than a race.
After walking over a mile from my hotel to the starting line, I stood anxious amongst thousands of people at five in the morning while it was still dark. The energy was palpable as Star Wars fans and Disney fans alike were dressed up in costumes, tutus and carried lightsabers, while Storm Troopers walked through the crowd. Music was blasting, light shows were happening, it was pure chaos and amazingness all at once.
The Race
It took a bit of time for the crowd to thin out as we ran. It was kind of scary, like being in stampede you paid lots of money to be a part of. When I finally felt like I had room to move, it was really easy to get into my running groove and then before I knew it, we were running behind the scenes of Disneyland with park cast members stopping their morning work to cheer us on. And then, we were in the park! Before it opened, with no crowds and it was pure magic! The race included character stops that you could get in a line to take pictures with Chewbaca, Vader and all the favs. I decided I wanted to keep running. I was 40/60 that this was a Star Wars run and that I was running a race, and I wanted to do well!
Running through the park was by far the best part of the experience. I took as much of it in as I could well focusing on not dying. Although my breathing felt great, my body was well aware that I was running harder and longer than I had ever run before. But still, being in the park like that was a dream come true for me.
The Finish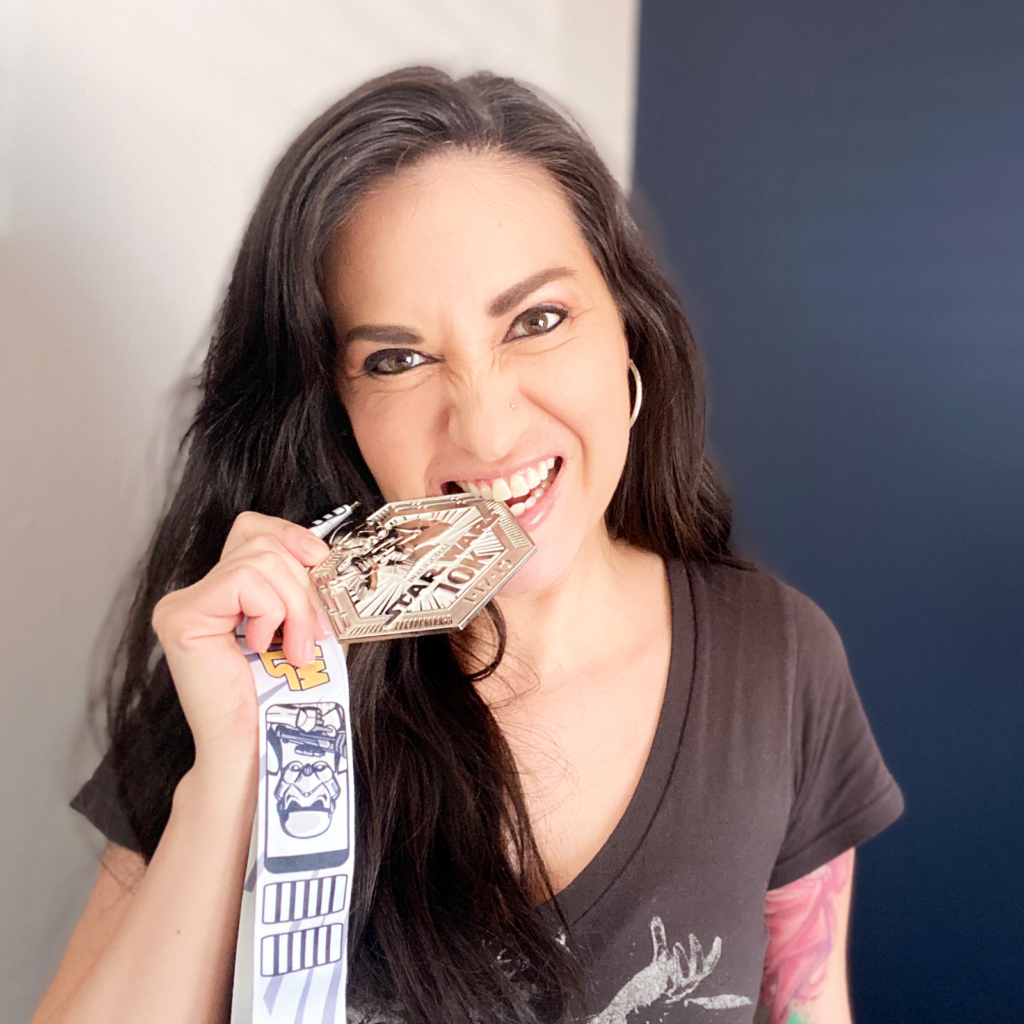 When I reached the finish line, filled with bleachers of cheering spectators and Star Wars characters, I was so relieved it was over. I was super proud of myself for accomplishing something I had never thought of doing even a year earlier. I know a lot of people set goals to run marathons, but a 10K for me, was huge. I finished slightly over my target time, which is ok, and then I limped my way around the park for another day, sporting my medal and getting high fives from other runners.
This was one experience I know I'll never forget and I know my fitness wins will never be this elaborate again, but I've learned to be proud of each of my fitness accomplishments. And if I really need to, I can always just pretend C-3PO is going to high five me after each one.